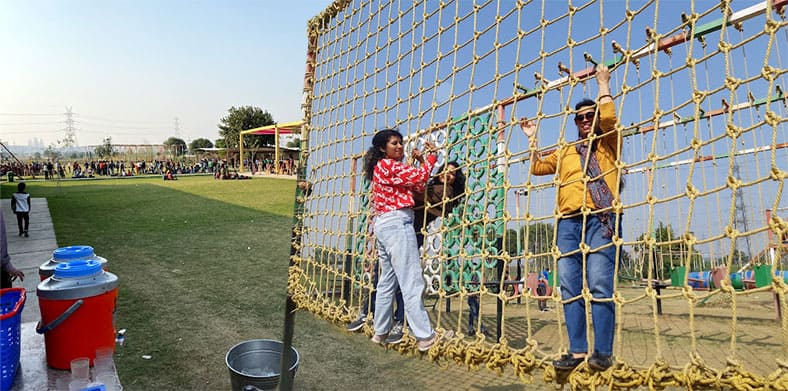 Best Reasons – Why You Must Explore Places Near Delhi For weekend
Weekend trips from Delhi offer an excellent opportunity to break away from our monotonous lifestyle and explore some of the best weekend getaways near Delhi. A one-day picnic to adventure parks is a great way to make the most of your weekend if you're looking for an opportunity to relax, have fun, and create memories with loved ones. These parks are widely popular as they provide a thrilling yet safe experience that includes activities such as bungee jumping, rock climbing, fly boarding, and others such activities. The benefits of opting for a one-day picnic are numerous: you save time and money, enjoy the weekend in an exciting environment with plenty of recreation options available and get to share this experience with friends or family without any hassle!
For weekend trips from Delhi, there are many places to visit that offer a memorable experience. An adventure park is one of those weekend excursion spots near the capital city that can provide hours of family fun in one day. Going on a day picnic to an adventure park has numerous benefits – it not only saves time and money but also provides travellers with an immediate chance to rejuvenate and enjoy nature from the hustle and bustle of urban life. From thrilling rides, camping spots, and sports activities to a great culinary delight – such places offer something for every age group. With many adventure parks located on the outskirts of Delhi, one can pick their spot for weekend relaxation without compromising on quality and amusement.

Madhavgarh Farms is an ideal weekend destination from Delhi for those who are looking for a getaway to indulge in rural life. This idyllic spot offers you a great ambience and a plethora of activities for your family and friends to engage themselves in. The highlight here is the perfect mix of Rajasthani and Haryanvi cultures, making it quite a unique experience compared to most weekend trips from Delhi. From visiting the local markets, exploring indigenous varieties of flora, engaging in some pottery or folk dance classes, and taking part in adventure sports like zip-lining and quad biking, there's plenty one can do here! Head over to Madhavgarh Farms if you want to spend an exciting weekend away with your loved ones!
Madhavgarh Farms is an ideal weekend getaway from Delhi. Set in peaceful countryside with a blend of Haryanvi village cultures, the farm offers plenty of fun and outdoor activities ranging from pottery-making to water sports to make your weekend break memorable. Not only that but you will also be treated to the untouched rural life experience of its people – a great opportunity to learn more about their rich culture and history. All in all, Madhavgarh Farms is one of the best places near Delhi for weekend trips that can provide you with an escape from the hustle and bustle of city life.